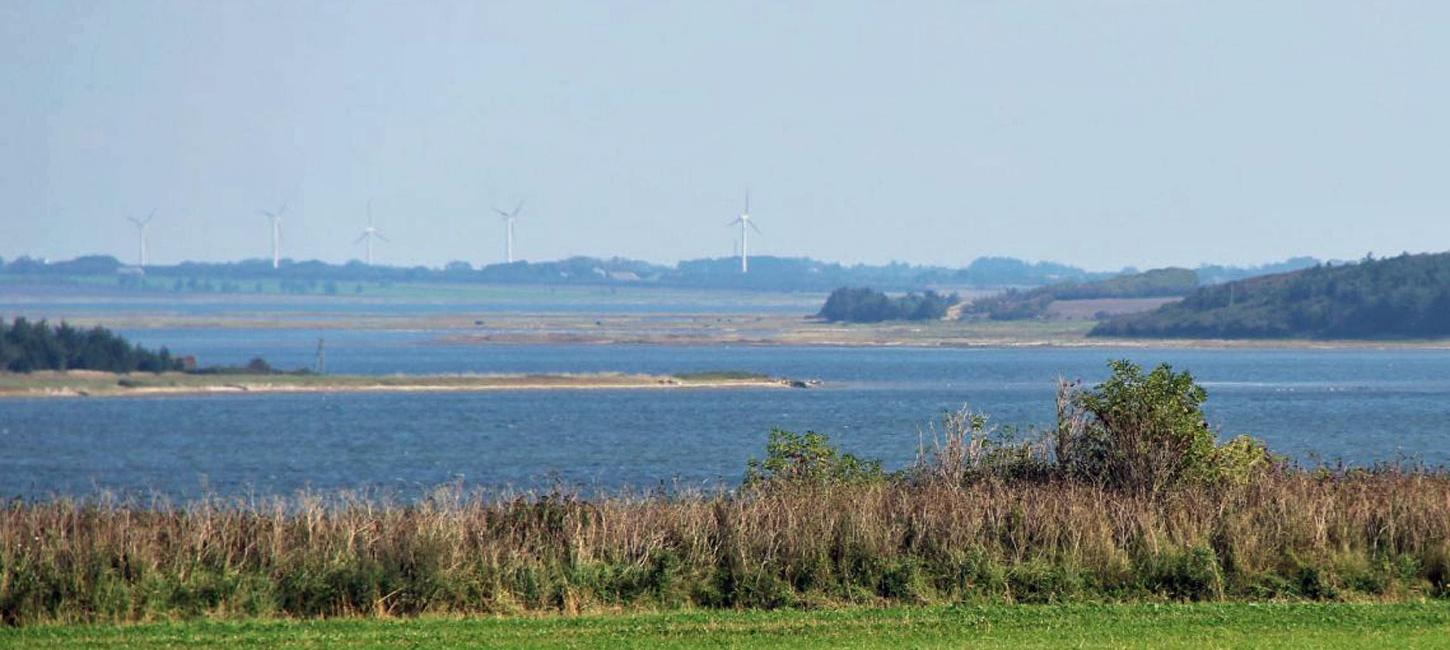 Coastal Landscapes
Denmark has a total of 7.300 km coastline that varies considerably when it comes to evolution, forms and history
Denmark has a total of 7.300 km coastline that varies considerably when it comes to evolution, forms and history. In 2004 the Ministry of Environment designated 99 National Coastal Landscapes (NCL), which represent the wide variety of coastal landscape in Denmark. 5 of these national coastal landscapes are located in Geopark West Jutland and form part of designated geosites. (See the references in brackets below). The five national coastal landscapes are:
Geopark West Jutland has a total of 50 km of coast line along the North Sea and 175 km of coast line in the Limfjord. Besides the five National Coastal Landscapes the total of 218 km coastal line represents examples of almost all the various types of Danish coastal landscapes and offers many fine experiences. The map below shows the different coastal landscapes based on their soil type.
Marint sand og ler = Marine sand and clay
Strandvolde = Beach ridges
Marsk = Marsh
Flyvesand/klit = Aeolian sand / dunes
Stejlkyster/kystklinter = Steep Coasts / coastal cliffs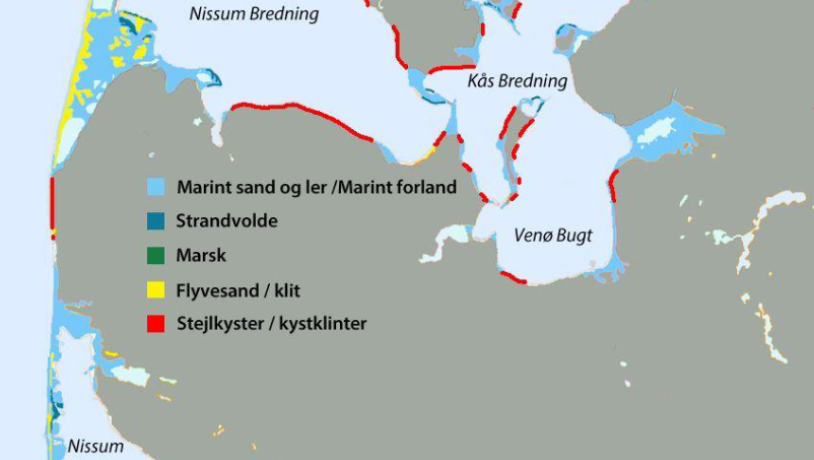 Photo:Søren Raarup
The coasts are some of our most dynamic types of landscape. Historically, the coasts in Geopark West Jutland have changed radically. Looking back at the period when the ice reached its maximum extent during the latest ice age approximately 21-23,000 years ago, Denmark was connected to Great Britain and the sea level was 25-50 meters lower in our area compared to today. Later in the process the sea level rose again as the ice melted away. Approximately 6,000 years ago, the sea reached its maximum extension and the so called Littorina Sea covered large parts of the low lying lands of current Denmark. The coastal cliffs from this period can be recognised in the landscape at a distance from the present coastline. When the ice melted, the land formerly compressed under the weight of the ice, started lifting and many of the current coasts appeared.
The changes continue with obvious changes in the coasts. From old maps from 1799 we can see, that the West Coast at Bovbjerg Lighthouse has moved more than 300 meters back. It is estimated, that in the Viking Ages the coast was more than 1.000 m further to the West. Since 1875 groynes have been built and sand nourishment has been used along large parts of the West Coast, which has reduced coastal erosion, but it has not put an end to it.