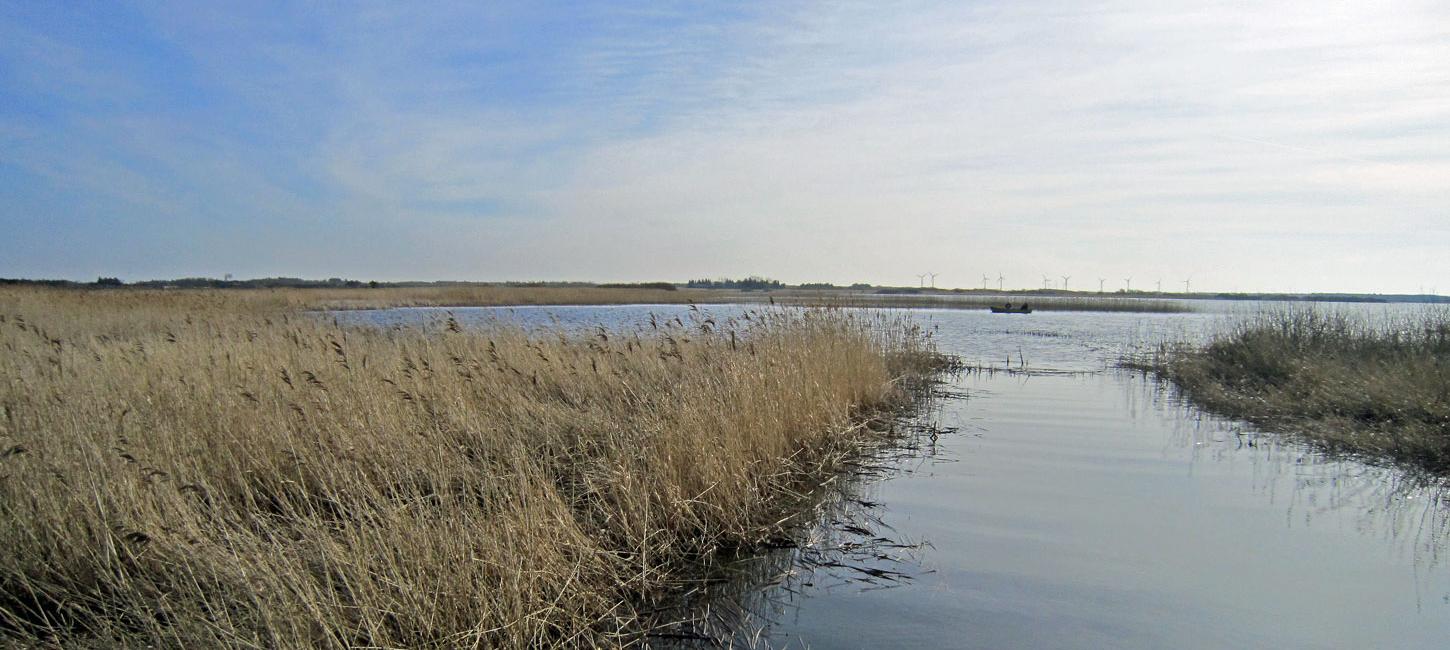 N44 Natura 2000-site no. 72 Husby Sø and Nørresø
Of the entire Natura 2000 area it is only lake Husby Sø that is part of Geopark West Jutland. The lake has a rich flora and fauna and bears witness to land reclamation projects during and after World War II.
Natural Values
Only part of this Natura 2000 area is located in the geopark. This is lake Husby Sø that has an area of 168 ha including the surrounding bog and meadow areas. The lake is shallow that lies on old marine foreland south of Nissum Fjord. The lake is surrounded by a zone of reeds and the hinterland consists largely of drained agricultural areas. The water that is drained from these areas is pumped into the lake via pumping stations. The lake is also supplied with water from several small streams. There is now an ochre-cleaning station because of the ochre-rich ditches south of the lake.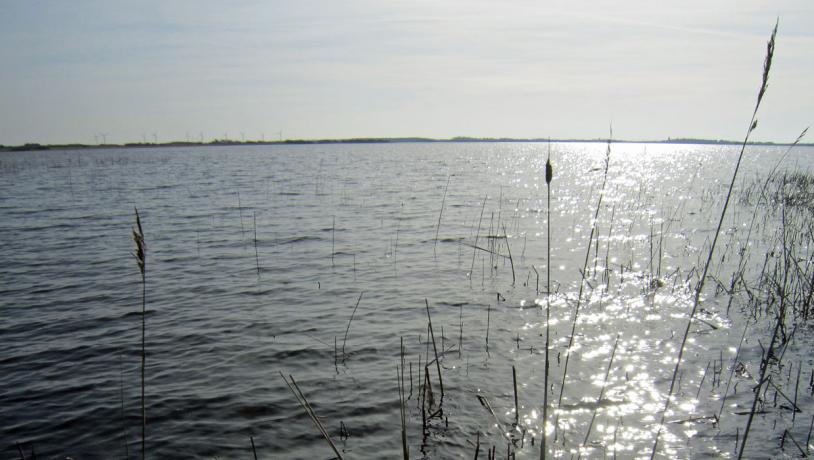 Photo:Bo Boyesen
From a botanical viewpoint lake Husby Sø has one of the richest floras in the country. In 2005 a total of 54 plant species were recorded, of which 41 were underwater plants, 6 were varieties of stoneworts, one was a type of moss and there were also 7 species of floating aquatic vegetation. A total of 14 of the 19 varieties of pondweed in Denmark have also been recoded here, together with three pondweed crossbreeds. A total of 10 flowering plants are on the Danish yellow list, i.e. species that are in decline on a national scale in recent years. The species floating water-plantain that occurs here is on the Danish red list (vulnerable) and is one of the species of special concern in the EU. Water-plantain appears to be strongly threatened by overgrowth by, for example, reeds and lakeshore bulrushes. Another factor is the reduced dynamism in the lake because of the dams along the shore. The area is maintained in cooperation with local landowners by cutting vegetation along the shore and grazing.

There are many interesting types of birds in the area. These include bitterns, marsh harriers, black terns and a large colony of black-headed gulls. Otters live here and beavers have recently arrived having spread from Klosterheden (non-geological site no. N19). There are also many starlings that gather in the reeds in vast numbers at sunset.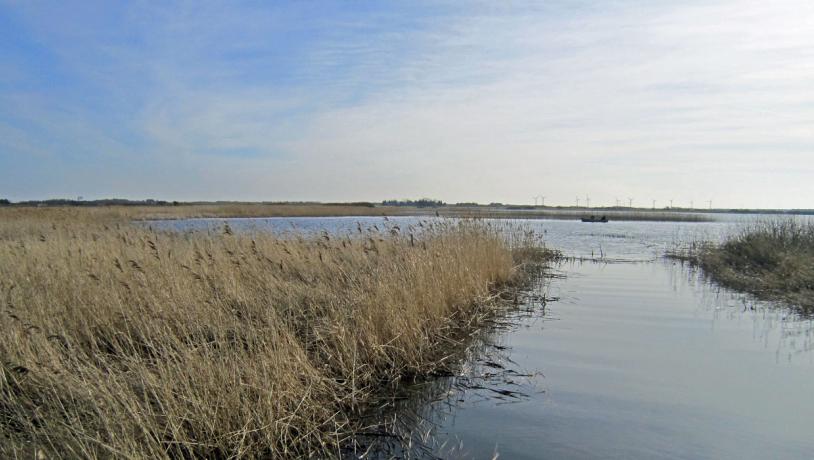 Photo:Bo Boyesen
Outdoor Activities, Communication and Cultural Heritage
The two lakes Husby Sø and Nørresø have always been closely linked. Water originally flowed from Husby Sø into Nørresø and further to Vest Stadil and Ringkøbing Fjord. The stream Madum Å flowed into the western side of lake Nørresø and large areas along this stream and the lakes were subject to extensive flooding. During and after World War II Madum Å was regulated so that it no longer flowed into Nørresø but south to Stadil Fjord. Permission was granted to allow water from the lakes to flow northwards from Husby Sø through an excavated canal Staby Kast to Nissum Fjord. This made it possible to drain an area of 800 ha of wet meadowland and marsh, and dikes and pumping stations were built to the east and west on lake Nørresø. Reeds for roofing thatch used to be harvested from lake Husby Sø, and fishing used to be popular, but today the area is mostly used for recreational purposes by the owners. There is a path around Lake Nørresø with posters providing relevant information, but this does not include lake Husby Sø.
Possibilities for the Aspiring Geopark
The geopark can contribute to communication regarding the local area in cooperation with the owners and Nature Park Nissum Fjord.