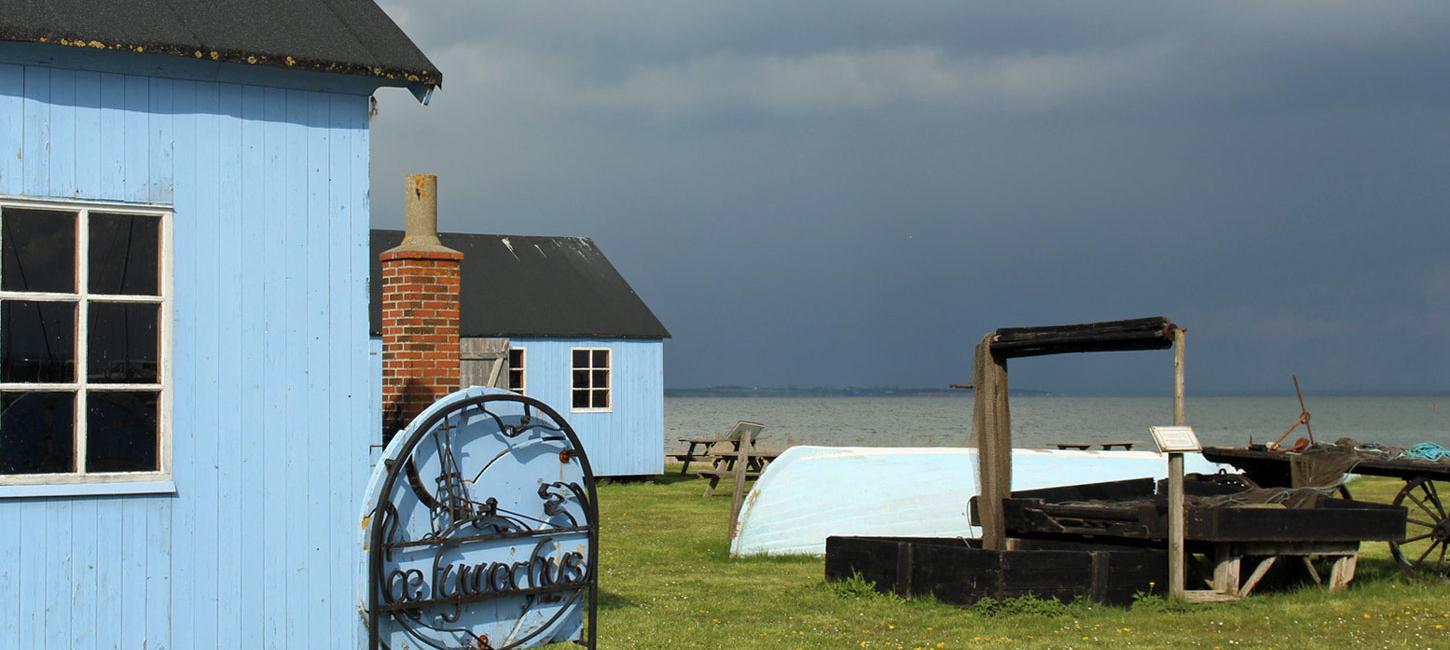 N30 Jeginø Harbour
Jegindø Harbour involves the history of fishing in Limfjord and its development from "sjægten" (a primitive fishing boat with a sail unique to Limfjord used until about 1900) to motorised fishing boats with modern mussel-dredgers and special boats to collect longline cultured mussels.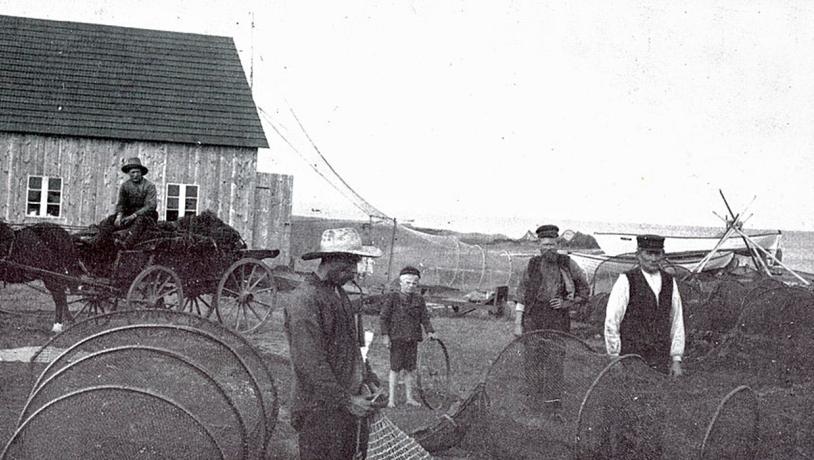 Photo:Struer Museum
A New Beginning
The history of the harbour at Jegindø starts with the fishermen at Harboøre: "Hell develops by imagining that a land of milk and honey lies elsewhere". Fishermen at Harboøre wanted above all to be located inside Limfjord. In the late 1800s this dream was put into perspective by some tragic shipwrecks that put people in doubt as to "where God had his thoughts" – writes the Danish historian and author Hans Edvard Nørregård-Nielsen in his introductory text about Jegindø in "Stemmer og Steder" (Voices and Places) in Limfjord 1.
 
56 Harboøre Fishermen Drown Over 35 Years
Eight fishermen from Harboøre drowned on 17th November 1862, and 6 months later 10 more met the same fate on 11th May. In 1893 the most tragic drowning event took place off Harboøre when 26 fishermen lost their lives. On the 25thJanuary 1897 the lifeboat capsized and a further 12 fishermen drowned. These repeated tragedies enhanced the desire to move from Harboøre into a location inside Limfjord – and some hade already made this move. Jegindø is located "just round the corner" from Oddesund. Families from Harboøre could visit Oddesund on a day trip. In 1884 about 50 previous Horboøre residents had settled on Jegindø island where it was possible to make a living by fishing or farming.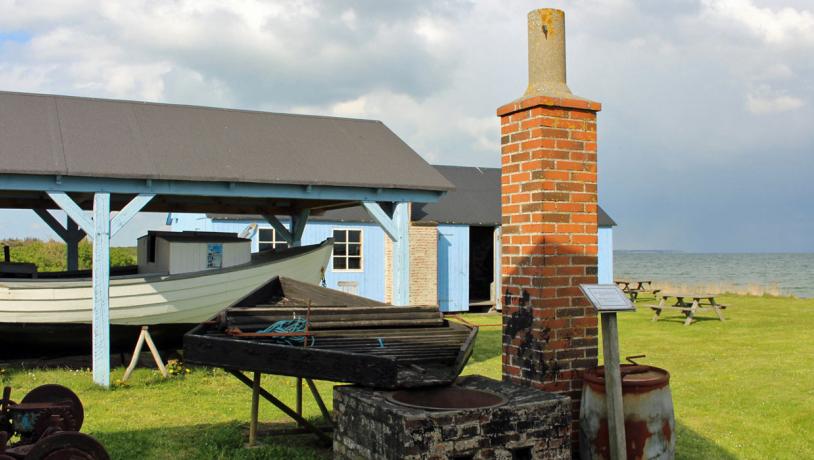 Photo:Søren Raarup
New Types of Boats and Fishing Equipment
In about 1900 the sailing vessels "sjægter" were replaced by vessels powered by engines. This made it possible to cover greater distances with heavier cargoes. Many of the traditional fishing techniques were also replaced by new a pound net method for, in particular, herrings and also by Danish seine (a special kind of fishing net). "Both herring and flat fish were a gift from God, but He is thanked bountifully when he provides eels as well".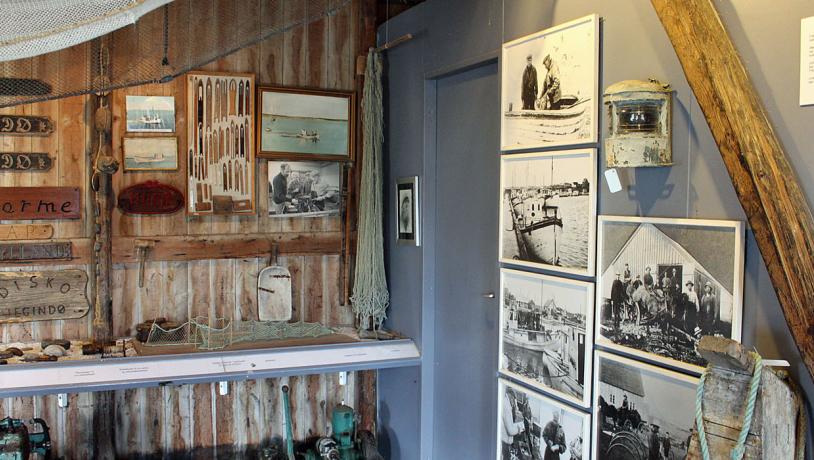 Photo:Søren Raarup
A New Harbour Replaces the Small Jetties on the Beach
Fishermen from Harboøre took the initiative to establish a new harbour, but local residents on the island did not support this project. But with three fishermen for every local in the parish council the decision to go ahead was made. When the harbour was opened in 1939 there were 40-50 boats based there. With larger boats and more powerful engines it was possible for fewer fishermen to catch more fish. The fishing was so successful that it was close to exhausting the supply of fish.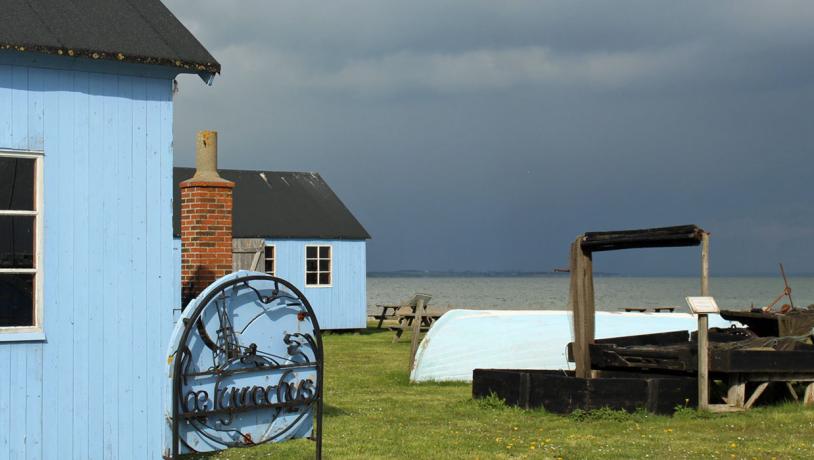 Photo:Søren Raarup
The Future Harbour and the History of Pound Net Fishery
There are now only about 10 fishing vessels based at Jegindø harbour. Half of them fish outside LImfjord for most of the year and the others dredge or collect longline cultured mussels. Leisure sailors are now important for the future of the harbour. Finance from the EU and the municipality have provided facilities for 70 leisure boats. A future harbour open-air swimming pool is a new initiative to attract visitors and leisure sailors. The dominant business at the harbour today is the privately owned Johs. Jensens Fiske- og Muslingeexport (Fish and Mussel Export) which started in 1928. The small fishery museum "Æ Fywerhus" (The Fjord House) at the northern end of the harbour is a splendid example of what volunteers can achieve here. The Jegindø Foundation has provided the means to purchase the bronze sculpture "Fjordfiskeren" (The Fjord Fisherman) that stands near the museum.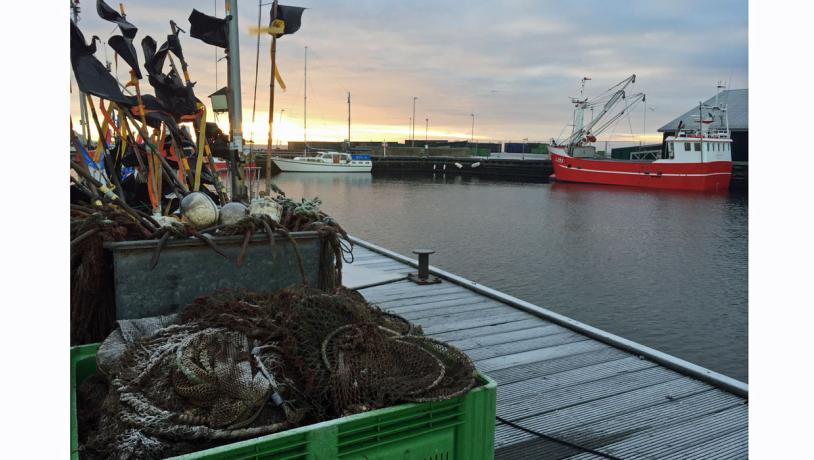 Photo:Geopark Vestjylland
Relationship to the Aspiring Geopark
The Jegindø Residents Society and the Local History Society for Thyholm and Jegindø have both entered an agreement with Geopark West Jutland.