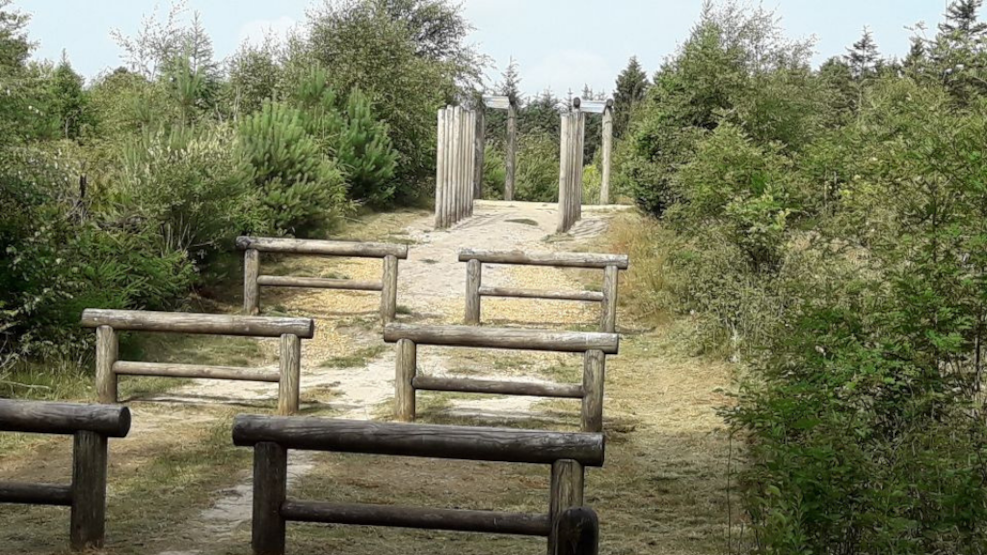 Tinkerdal Natural Playground
Tinkerdal Nature Area is a new place to visit for locals and tourists. 

These facilities offer activities for all age groups ranging from a calm and nice stay together with friends and family in the forest to challenging physical activities with or without the family dog.
Therefore Tinkerdal has many activities to offer
A forest nature playground for small ones, a GetMoving-exercise track for children and adults, a packed lunch area for small groups, a barbecue huts for large groups, shelters for sleepover ex. schools and scout plus tables, benches and fire rings. Moreover, you will find a large Dog Forest with fitness facilities for dogs north to route 16.  
Can you find the troll VildEmil?
Somewhere in the forest floor lies the giant troll VildEmil and takes a nap. If you are lucky enough to find him, they are welcome to climb on him. But be careful he does not wake up!

Tinkerdal Nature Area is placed between two parking places
To the south you will find a smaller parking place by Tinkerdalsvej and to the north you find a bigger parking place on Route 16 with public toilets. This parking place also functions as a "trail-centre" – a spot where marked walking and cycling tracks starts. 

From the "Trail-centre" is it possible to go on a 30 km. cycling trip which will take you far and wide in the 5.824,27 acres government-owned Feldborg Nørreskov, that is Borbjerg-, Sevel- and Nordre Feldborg Plantation. You can also choose to go on a hike which will take you to a new area with tables, benches and a fire ring by Hogager Pond. In this area there is also established a small parking place by Hornstrupvej. 


GeoparkVestjylland © 2023