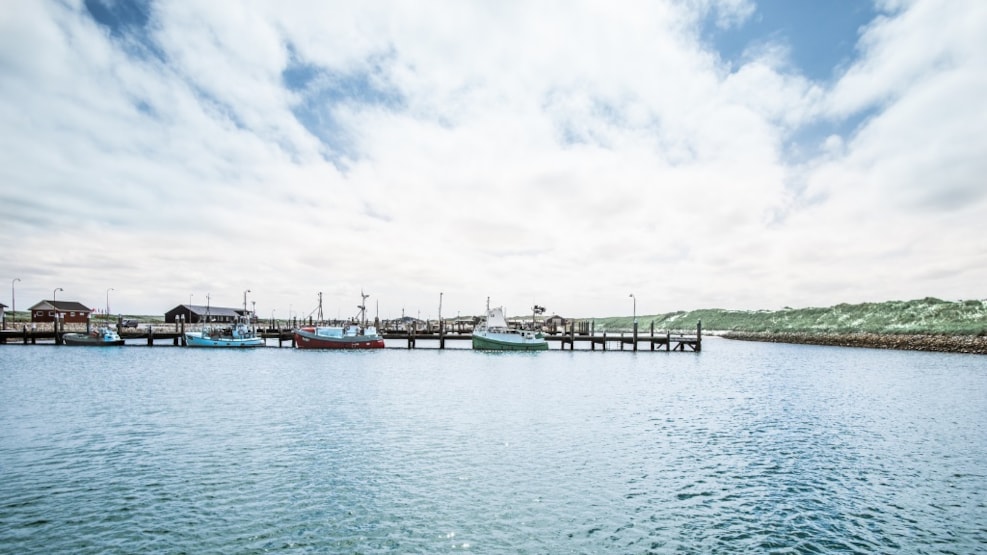 Thorsminde Havn
Thorsminde Harbour is situated by the drainage sluice from Nissum Fjord.
Earlier on, all vessels had to be sluiced through the small lock connecting the sea and the fiord/The Old Harbour on the east side.
The cutters were cunstructed for that. Among other things they should be able to lower the mast. 
New opportunities arose for the harbour when the west harbour was made in 1967. The resident fleet grew, and from 1980 to 1990 there were approx. 75 resident cutters. In the spring months, there were just as many vessels from the inner Danish ports that came to the west coast to catch tongues.
The turnover / value of the landed fish was approx. 45 million The resident fleet is approx. 15 cutters. The harbor is an attractive place for boaters, as it has a natural and active fishing port as a good alternative to the large marinas. There are new toilet and bath conditions at the harbor, the possibility of provisioning, etc.
The harbor can be contacted on tel. +45 9749 7044 or on VHF channel 13-16 during the day.
If you come to the port of Thorsminde as a sailing sailor, you must pay special attention when entering and leaving.
The current varies depending on whether the lock to the fjord is open or closed. At the same time, the depth of water varies in the port and in the harbor. With a lot of power, the harbor lock can be closed by sailing. This can be done in the period 07-21.30 by contact with the port. Information on current conditions and last known water depths can be viewed at www.Thorsmindehavn.dk.
It is possible to pass through the chamber lock in the period 07-21.30. Registration for transit is on tel. +45 9749 7044.
If there is a need to get in the North Sea outside this time, we refer to berths at bridges 3 and 4 in the West Harbor. There are also good tugs both to the North Sea in the West Harbor and to Nissum Fjord in Gl. Harbor.
Local history...
The men meet at the old harbor bench
In the old days, the men of the town met at the harbour to watch over those that were out fishing. Back then, the boats were not that big,
and if they were taken by a wrong wave on their way back in, they would capsize should the worst happen.
The meeting point was by the bench in front of the harbour's office. Here they could both find shelter as well as keep an eye on those returning
from sea.
Nowadays, the fishing boats are bigger, and the risk is less. But the men still meet by the bench. Mostly the elderly. Every day from the
morning and again after lunch – and a nap – they gather and chat about life in Thorsminde.
It has always been like that.
Watch a video from Thorsminde.
GeoparkVestjylland © 2023