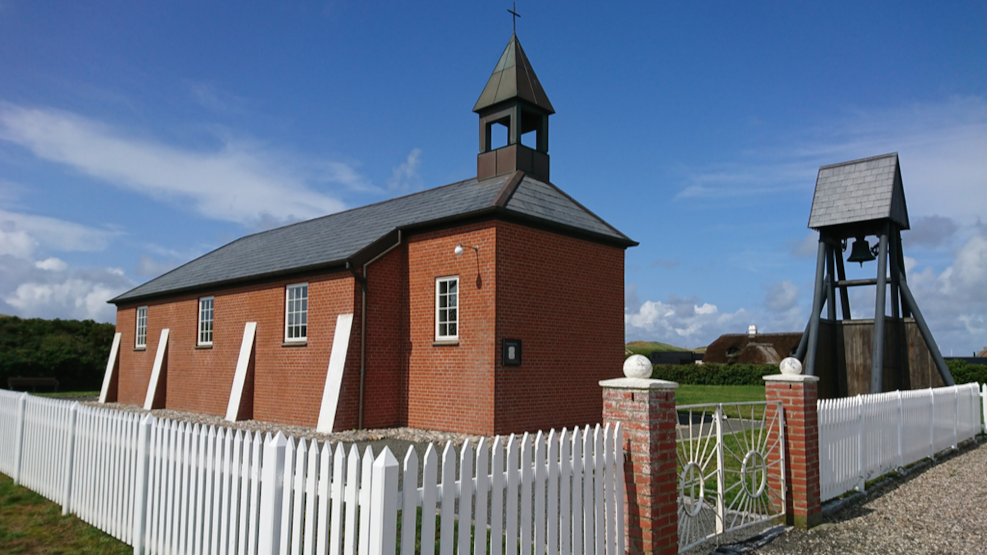 Thorsminde Church
The church of Thorsminde is a former lifeboat shelter converted into a church in 1939.
The Altarpiece and pulpit are originally from Thyborøn Church. The altarpiece  from 1908 is by Johan Mielch (student of Skovgaard). The baptismal font was originally from the monastery Skærrum Kloster, previously used as watering trough for cattle.
Three mosaic panes by Erik Winkler. North of the church you find a memorial stone with tables with names of the men lost at sea (nine fishermen were lost on 14 February 1979 when their boat got covered with ice).
Local tale...
The baptismal font stood once on a field by Vemb
The church in Thorsminde is located on the street Kirkevej and served originally as a rescue station. 
When the rescue station got moved in 1939, three dynamic men teamed up and bought the buildings. They wanted to establish the place as a church and received contribution from many contributors.
For instance, the baptismal font. The font once stood on a field by Vemb further inland and originally served as a water trough for cattle.
But in times of scarcity, it was worth the effort to move it down to the fjord and sail it over to Thorsminde, so that it today serves a higher
purpose.
The pews and the pulpit are secondhand as well. They came from a closed church in Thy
GeoparkVestjylland © 2023