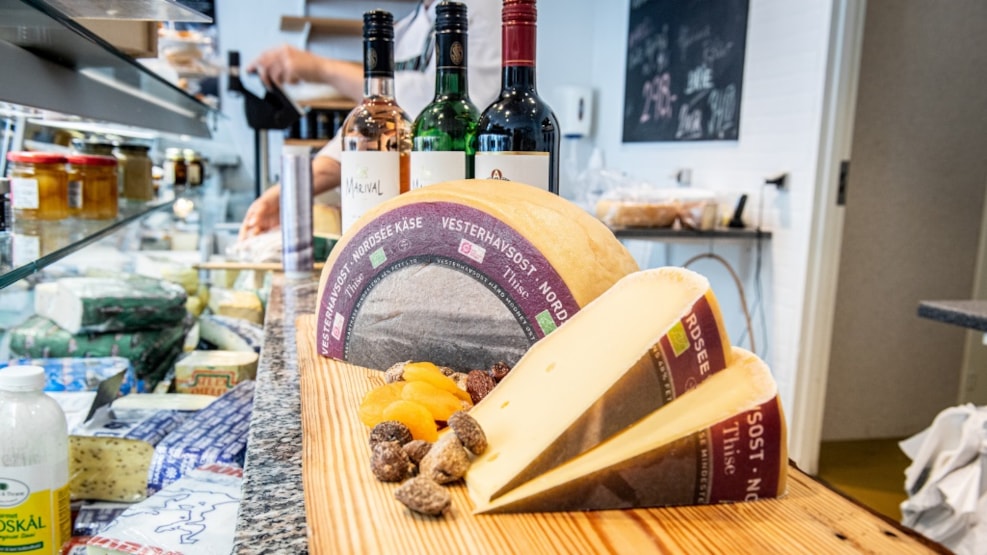 Ostehuset
In Ostehuset Lemvig you will find a large selection of specialty cheeses from around the world, home-made soft cheeses and local specialties - try e.g. North Sea Cheese and Amber Cheese.
"Ostehuset" in Lemvig
In "Ostehuset" you can choose from a large selection of specialty cheese from local producers as well as producers from around the world. The Lemvig-Thyborøn specialty is the Vesterhavs cheese, a cheese lagered by utilizing the Westwind's gentle breeze with its refreshing salty mist. Another specialty is Ravost, which takes its patina from Amber.
"Ostehuset" also offers a great variety of wine, jams, homemade bread, crisp bread, different types of olives and relish of tomato and various fruits.  
For deliveries contact Slagter Mortensen, in the adjacent building to the Ostehuset and check out his tapas dishes. Your tastebuds will be pleasantly surprised.


In 2014 the TV programme "Tareq Taylor Nordic Cookery" focused on the Limfiord.

The Limfiord was the theme of the 30 minute international television program about modern Nordic cuisine and lifestyle, which was sent in the series "Tareq Taylor Nordic Cookery" in 2014. The broadcast gave a very good picture of the area's character, magnificent scenery, local food and experiences.

During the broadcast the Swedish / British chef, Tareq Taylor, visited the local food producers and four times the popular chef made exciting dishes of local food. At the end of 2014 a book with all the recipes from the shows in the series was published.

As Tareq Taylor visited Ostehuset with his film crew, he chose to buy "Jens Langkniv" cheese from Thiese with an apricot chutney and delicious homemade crackers.
GeoparkVestjylland © 2023