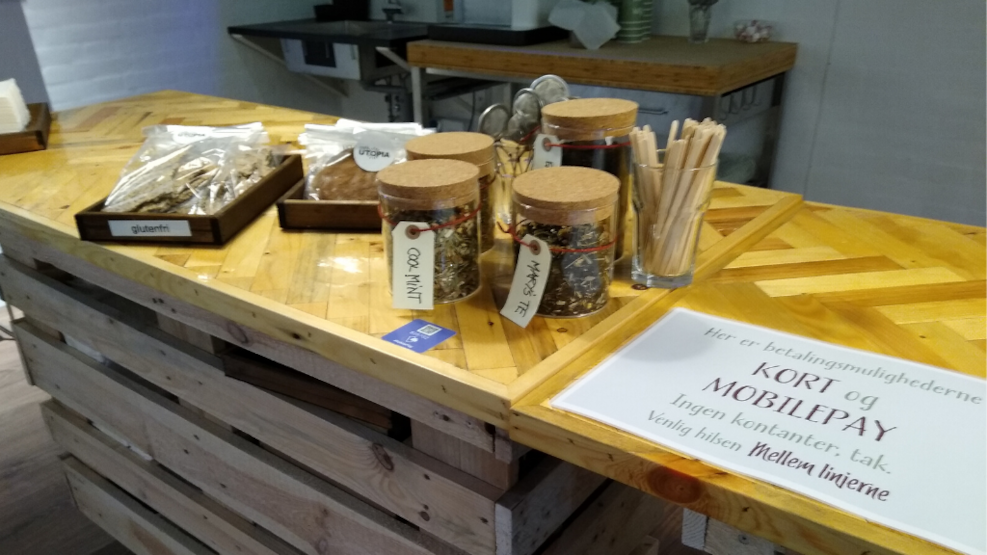 Mellem Linjerne - The coffee shop at Holstebro Library
In addition to coffee, you can buy tea, juice and some cake, provided by Café Utopia. The coffee shop is designed as sustainably as possible: The counter is made of old pallets on "Skovlund" and the long table is produced on "Saustrup" of old oak. It gives the café a raw décor with recycling.
Mellem Linjerne (Between the lines) - the coffee shop with room for words and opinions - can be found at Holstebro Library. 
Mellem Linjerne is manned every day at 10 am - 6 pm. Saturday at 10 am - 2 pm, and Sunday at 1 pm - 4 pm. In addition, there are in the morning and after 6 pm. self-service of coffee and tea.
The coffee shop is established in close cooperation with the Center for Disability under the Social Department. Citizens affiliated with "Skovlund" - a protected day care service for citizens with different types of disabilities - are included in the staff with employees flex jobs. The employees are employed under "Skovlund".
The library in Holstebro is a unique building in extension of Holstebro City Hall. At the Holstebro Library there are activities every week - from author visits to creative workshops. Free WiFi is available and you can read Danish newspapers and over 1000 different daily foreign newspapers online. You can borrow books (also foreign languages) movies and magazines, experience the children's library and much more.
At the Library you can also find a touch screen with tourist attractions, accommodation, maps and more. over Holstebro Municipality.
GeoparkVestjylland © 2023