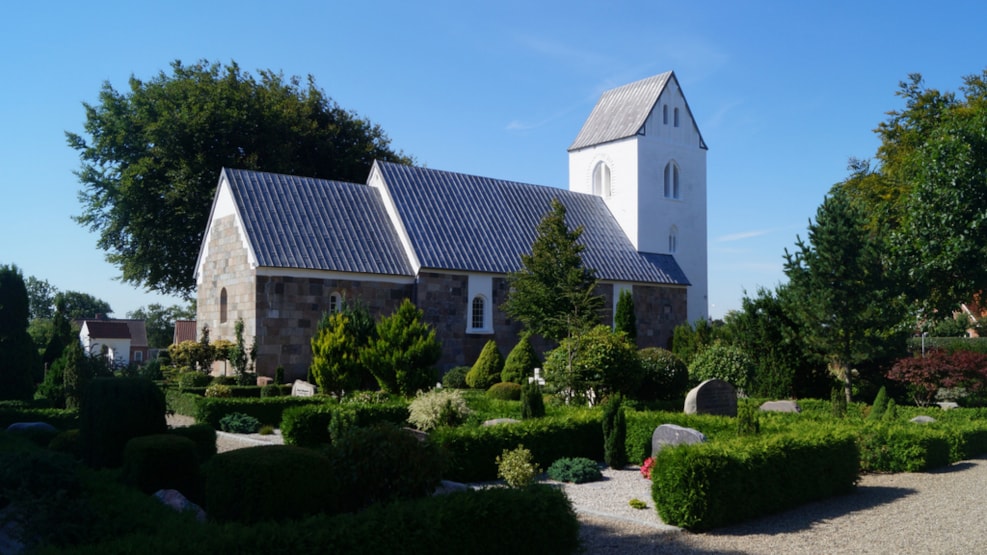 Mejrup Church
Mejrup Church, which was built in 1100 - 1200, consists of choir, nave, tower to the west, and porch at the south side, and originates from the monastery of Tvis.
In the porch there is a fresco of St. George and the Dragon (1520-40). In the legend of Holstebro St. George is the same as the horseman Holst, who came here and killed the wyvern (dragon), which was lying on the bridge over the stream Storå.

According to another legend the churches in Mejrup, Måbjerg and Møborg were built by three virgins, who were later buried in the hillock in the churchyard. If the churches should ever become dilapidated there is enough money in the hillock to rebuild them. But if anyone tries to dig their way through the hillock to find the money, a plague shall break out.

When the church was restored in 1957 27 coins were found, of which 19 dated back to Sven Grathe - Chr. VIII (1841).
GeoparkVestjylland © 2023