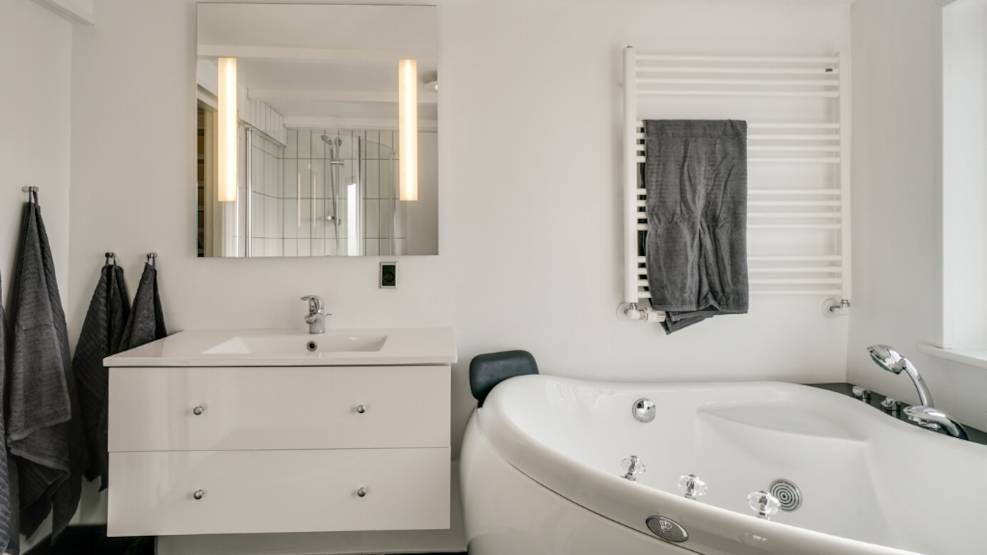 Maries Hus, Holstebro
Rent a house with accommodation for four people in the center of Holstebro.
The house is close to the cozy pedestrian streets with over 200 exciting specialty shops, cafes and restaurants.
Holstebro Musical Theater and Big Bio are also within walking distance.
Marie's House in the heart of Holstebro is a super cozy accommodation option
Just a few hundred meters from the shopping center of Holstebro with exciting pedestrian streets lined with shops, good cafes, restaurants and a large Music Theater, you will find this cozy accommodation where you have all the facilities, such as a large kitchen with dining area, lovely bathroom with shower and spa , cozy living room, double bedroom and room with double sofa bed.
The house is from 1939 and looks something unusual. The story then also says that the house was built a bit in "protest", because it was said that the owner, "Naur-Poulsen", could not build anything on the very narrow plot, which consists mainly of a hillside. The house is therefore built in 4 staggered levels from 2 steps below pavement level with kitchen to 3rd level with the bedroom. To be on the ground, the house is very narrow at one end and somewhat wider at the other. All in all, a very charming and cozy accommodation.
Over time, there have been tailoring, photo studios and today real estate agents in the house. During the war, YMCA stayed in the house after being expelled by the Nazis from their normal premises.
You can rent the house for a shorter or longer period. The area offers several good golf courses, plenty of cultural offerings, water park in the city, the North Sea 40 km away and in general plenty of leisure and leisure activities.
Try a stay at Marie's House - there are good chances that you will feel comfortable!
Amenities:
Washer and dryer
Free WIFI
Parking space at the apartment
TV and radio
Oven, hob, fridge / freezer
Own entrance
Key box with code
GeoparkVestjylland © 2023