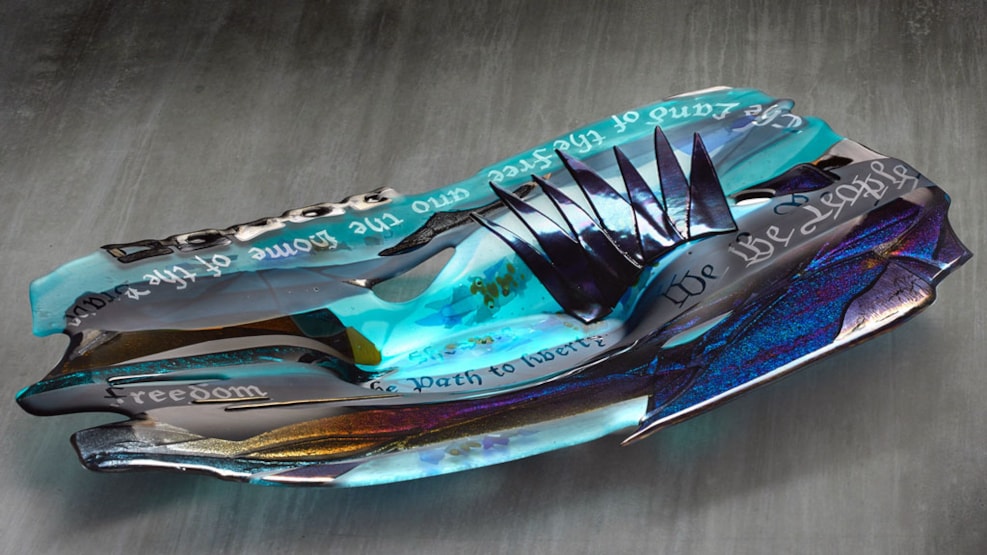 Maagaard Glass by Agnethe Maagaard
"Unique sculptural glass - That's what I'm passionate about" quote by Agnethe Magaard.
Agnethe Maagaard lives in Bøvlingbjerg in West Jutland. She has worked with form and color for 40 years in many different materials and art forms. For the past 20 years, glass has been her favorite form of expression.
"Through the glass material, I have developed my own unique technique and expression. I tell stories with the glass and use the shape to support my story and my theme. One of my most important sparring partners is the light.
I paint with the glass and lay it up like brushstrokes on my canvas. The colors mean a lot to me and the choice of color depends a lot on my mood and where my inspiration comes from that day," says Agnethe.
Her glass art has brought her many fantastic experiences, among others. The Queen's visited in 2009, the church decoration in Dybe church, the current church decoration for Fjellerup church and her collaboration with the Consulate General in New York, where she exhibits in selected design shops and galleries and her order for the Danish national team of chefs.
Agnethe has delivered several unique works of art to the Danish and Saudi Arabian royal houses.
In April 2017 was as invited to exhibit at the international art fair World Art Dubai. Here she was nominated as one of the best international exhibitors. In April 2019, as one of the TOP 60 MASTERS, at the Museum of Art and Design in New York, she received the acclaimed AWARD for her artistic work.
Maagaard Glas, Agnethe's workshop / gallery in Bøvlingbjerg is always open by appointment. Just call and make an appointment for your visit.
GeoparkVestjylland © 2023