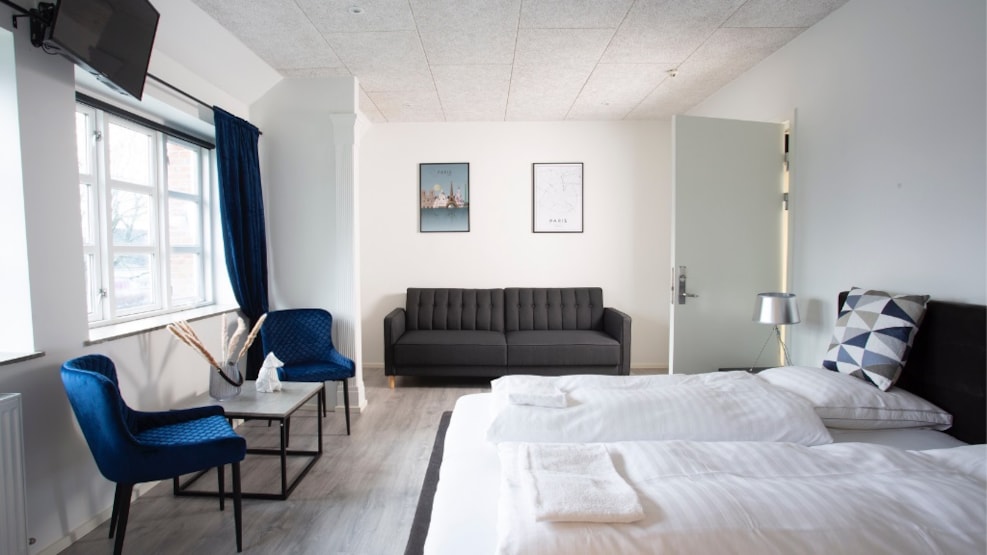 Hotelcity Holstebro
Hotelcity Holstebro is housed in a historic building from 1910 designed by architect Ulrik Plesner. The building was originally a retirement home - "Sysselting".
Today, the building has been transformed into a modern concept hotel with 32 rooms decorated with respect for the original architecture.
We look forward to welcoming you to Holstebro, whether you are traveling as a tourist, family, business traveler or as a group.
You can check in at the hotel around the clock. We have contactless payment for all transactions. You get electronic access to your room with your mobile. You can get in touch with us by phone around the clock.
Here you can relax in our large garden with many terraces and green areas.
Hotelcity Holstebro is within walking distance of Holstebro Railway Station and the pedestrian streets - voted Denmark's Best Shopping City 2020. Here you can explore more than 200 specialty shops, restaurants, cafes, attractions and art in the street scene.
Do not miss Alberto Giacometti's famous "Woman on Cart" in front of the Old Town Hall, where in the summer there is a small tourist information.
If you are hungry for more art, you can take a free city walk to the art in Holstebro and hear about the many coastal works you will find in the pavement in the pedestrian zone and on streets, facades, squares and rooftops in the city.
If it suits you better with an evening trip, Kulturvægterne offers a free guard tour with stories and songs about the works of art on weekday evenings in July and August.
At Holstebro Art Museum you can see works by, among others, Danish Tal R, Heerup and international artists such as Matisse and Picasso.
GeoparkVestjylland © 2023