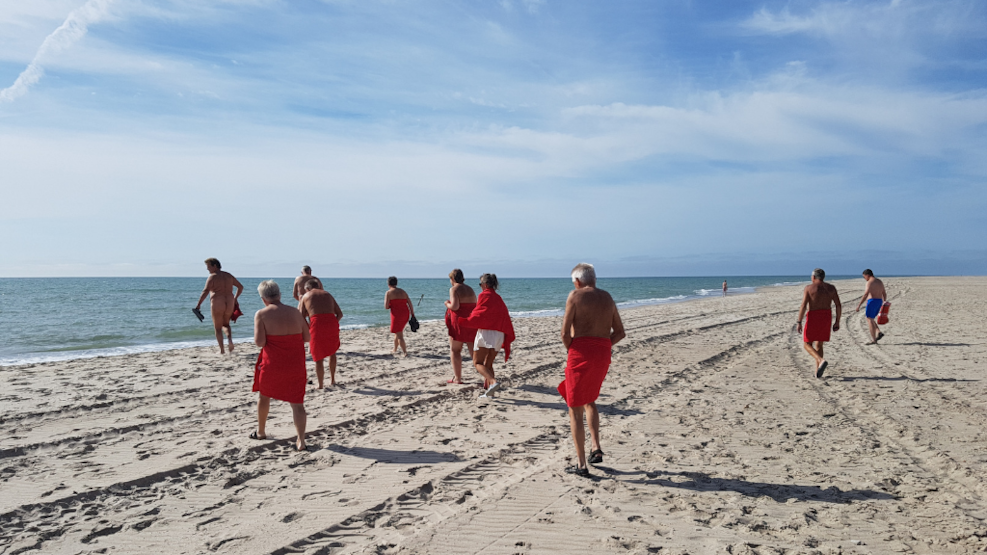 Græm Beach
Græm Strand is a naturist beach, a FKK beach.
FKK stands for Freie Körper Culture - Free Body Culture. Here you can take a swim in the waves, even without swimsuits.
Græm Strand by the North Sea is a naturist beach, a so-called FKK beach.
In the dunes at Græm Strand you can see moraine layers from the previous ice age. Here you can be lucky to find petrified wood, which is a relic of the constant changes of the landscapes.
You can become much wiser about the importance of the Ice Age for the West Jutland landscape by visiting the Geopark West Jutland website.
On the beach you can see several bunkers, which is a testimony of World War II in the middle of the magnificent West Jutland nature.
During the war, Adolf Hitler wanted to consolidate the entire Atlantic coast from Norway to Spain with concrete structures, of which approx. 2000 were real bunkers. They were buried in the outermost dunes, where they could lie hidden, but as you can see, the North Sea has left its mark on nature, and the piles are now free on the beach.
It may be exciting to visit a pile, but be aware that they are worn and the rebar on several of them is exposed.
Græm Strand in the southernmost part of Husby Klitplantage invites as well as Spidsbjerg Strand for both puppets, walks in the water's edge and general emptying of the head accompanied by the waves of the waves.
According to the book "Wos i æ hawbjerre", the word Gräm consists of "gray" and the ending of home, "hèm", old-fashioned "heh", which means lying down, living, farm, town, home.
The place name is mentioned all the way back in 1522, and it should have arisen after a disused, drowned fisherman was buried in Husby Church. The winter was long with snow long into the spring. This meant that the feed did not hit and many animals died. And it didn't get any better in the spring when nothing sprouted. The locals came to the conclusion that "ugly" - the drowned fisherman - was the cause of the accidents. He was dug up and thrown into the sea. Then luck came back.
You have to go through the dunes to get to Græm Strand. Therefore, access to the beach is not suitable for wheelchair users. At Græm Strand you will find a toilet.
Find inspiration for more experiences in Husby Klit Plantage
GeoparkVestjylland © 2023