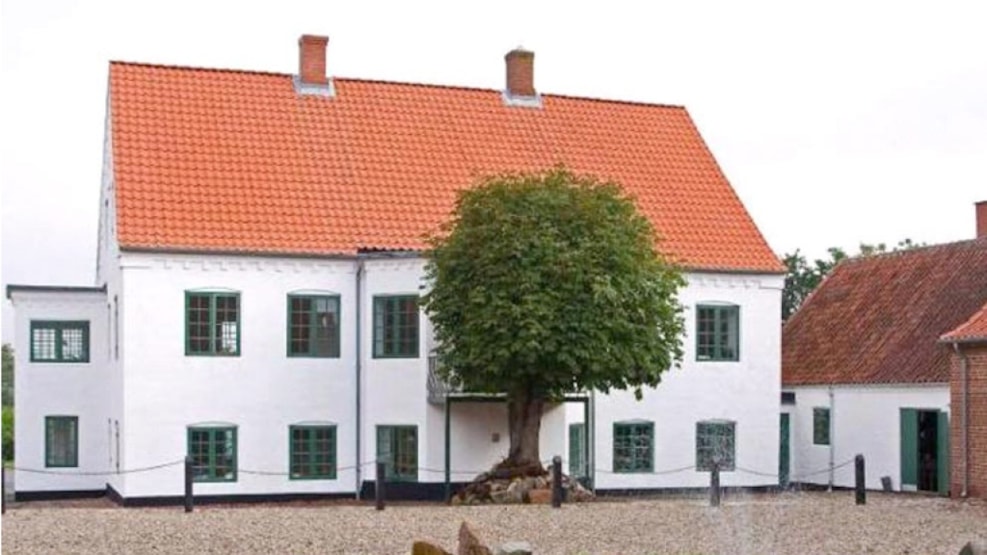 Folkeuniversitetscentret Skærum Mølle
All over Skærum Mølle history is visible. The main building was built in 1865 by Councilor A.F.M. Tang, who owned Nørre Vosborg Manor. The farm buildings from 1928 and the pensioner's housef from 1914 are classic examples of "better building ethics" buildings.
The centers mission is to be a connection between science, art and society. This happens in different ways. Here are held courses and seminars.  It is calm so you can immerse yourself in various subjects - either alone or jointly.
Some of today's technical inventions in farming machines has been constructed on this site.
Skærum Mølle became the starting point for an extensive pioneering work in agriculture. Today history's visible signs is still in the area. For example The Cooperative Dairy farm from 1887, "The old shop", that illustrates cooperative movement and The Brickworks Museum, a historical gathering of studies and documents
"The house of stone and stars", which is an architecturally remarkable building, was built by one of Denmarks highest esteemed artist, Per Kirkeby, as a tribute to the layman research. It houses a significant mineralogical collection and has a dome for astronomical observation. Every month there is open "Star nights". The centers advertised events is open to everyone. It is also a possibility to stay overnight.
Throughout his career, artist Per Kirkeby has written, modeled and filmed when the space on the canvas became too tight, So when Folkeuniversitetscentret Skærum Mølle asked him to draw "The House of Stones and Stars", everything was coming together. Per Kirkeby was originally a geologist and, at this time, had already created his first brick sculptures; therefore it seemed logical to let him design a building that, in addition to an observatory, should also contain the mineralogical collection of stones. The result is a functional sculpture, which is admired by some, while others scrub it over the rug with hard words. The house was built in 1996.
GeoparkVestjylland © 2023