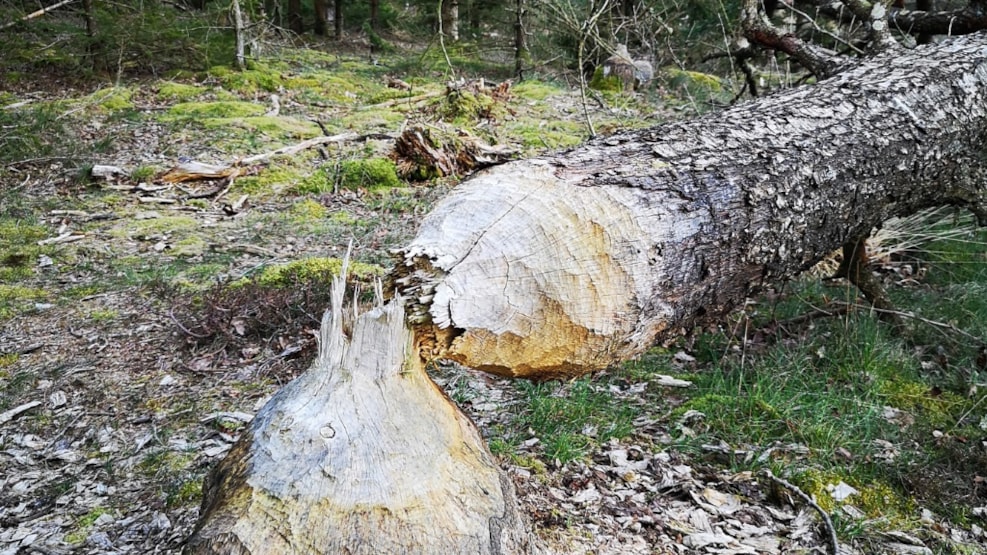 The beaver tracks at Riisbæk Gl. Skole
Bring the family on a hunt for beaver tracks at Riisbæk Gl. School at Klosterheden Plantage between Struer, Lemvig and Holstebro.
In addition to beavers, you may be lucky enough to encounter crowned deer, wild game and find rare plants in the forest floor.
The beavers
The beavers are shy nocturnal animals, but you can easily find trees that have been felled by beavers and see their impressive dams in the water. You can also take the Danish Nature Agency on a guided tour and hear about the beavers.
Hiking trails
Klosterheden Plantagen has as many as 17 walking routes, which alternate between roads and forest tracks, narrow footpaths through stands, heaths and meadows. The hiking trails are marked with green, red, yellow, white and blue poles.
Stay overnight
If you want an overnight stay in the open air, you will find both campsites and primitive accommodation in Klosterheden. Remember to reserve the campsites via the Danish Nature Agency's webbooking.
The primitive campsites may be used without prior reservation. The campsites are located i.a. at Vilhelmsborgvej and at Ørsvej.
Please note: Camping outside the established accommodation is not allowed.
GeoparkVestjylland © 2023