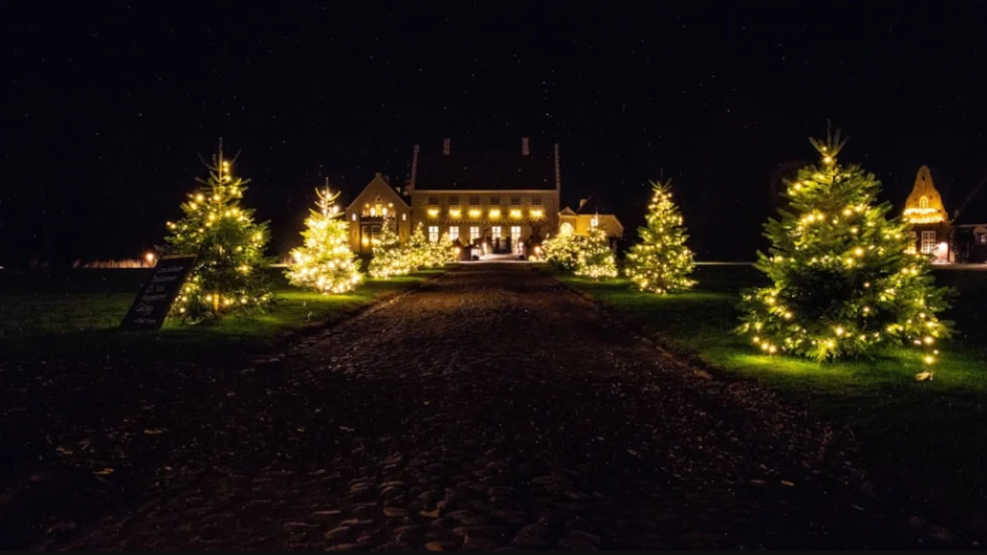 Christmas at Nørre Vosborg
Christmas does not go unnoticed at Nørre Vosborg Manor!
Christmas does not go unnoticed at Nørre Vosborg Manor. When you arrive at Nørre Vosborg, the manor's beautiful Christmas tree avenue shines with the stars in the sky.
Under the old moat bridge lives the Manor's elf, who has been looking after both young and old at the old manor since the dawn of time. At Christmas time, he is to be spoilt for his efforts, and every day he is served a large bowl of porridge with cinnamon, sugar and a huge knob of butter. The manor's skilled staff of volunteer flower girls have decorated the manor's living rooms in collaboration with BloomK. The atmosphere is full of Christmas cheer.
Discover the Great Hall:
You can help with the decorations by braiding a Nørre Vosborg Christmas heart to the large tree in the Great Hall. But you are also welcome to take the heart home for your own tree.
In the Great Hall, you can also buy something to savour. The Christmas scent is provided in the kitchen. Every day, brown cakes are baked on the old wood-burning stove according to the original Nørre Vosborg recipe. There are tastings for everyone and the opportunity to buy a bag to take home.
Experience a trip in a leftover wagon:
If you are wrapped up in warm clothes and in the Christmas spirit, you can enjoy a wonderful and beautiful tour of the area in the manor's horse-drawn carriage, which runs between 10.30 and 15.30.
Opening hours:
The manor is staffed and open on Saturdays and Sundays between 10.00 and 16.00. Admission DKK 100, children and young people up to and including 18 years are free.
We serve porridge for Santa on Saturday and Sunday at 13.00.
Guided tour and the history of Nørre Vosborg every Sunday at 11.00 am
GeoparkVestjylland © 2023